Café Typô
Café Typô is a blog dedicated to the codes and uses of typography. It is run by Bruno Bernard, a type designer, and the creator of the Alfab Typographic Foundry.
Bruno Bernard
Bruno Bernard is a type designer. He creates custom and exclusive typefaces for luxury sector houses.
He provides creative and technical solutions to companies and communication agencies. He has developed corporate typefaces for major French luxury companies, SNCF, ClubMed, and Française des Jeux.
In 2019, he founded Alfab Type Foundry, which is dedicated to the dissemination of typefaces that combine innovation and tradition.
With over 15 years of experience, Bruno co-founded the type foundry Bureau des affaires typographiques in 2009 and gained recognition in 2010 with the publication of Adso typeface, the culmination of his research on Gothic writing.
Bruno Bernard is a member of ATypI and Rencontres de Lure. He exhibits and regularly gives seminars, both in France and abroad.
Engagements
Workshops or talks in various locations: ATypI, Montreal – Rencontres de Lure, Lures-en-Provence, Paris – École supérieure Estienne, Paris – ESADHAR, Le Havre – Campus Fonderie de l'Image, Bagnolet – ESAA Duperré, Paris – ESAV, Marrakech – Lycée Pasteur, Besançon – ECV, Nantes – Graphisme.design, St Denis – Biennale du design off, St-Etienne.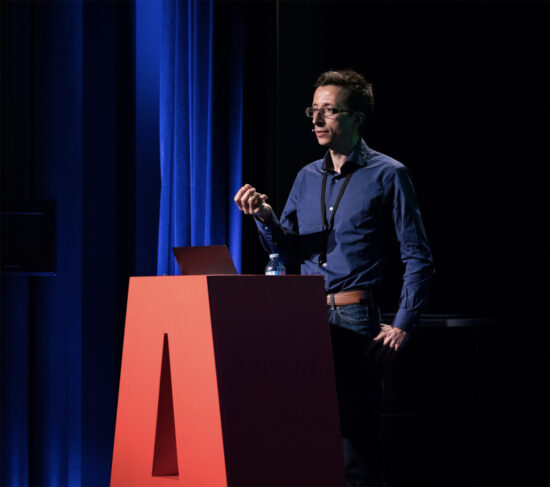 Contacts
3, rue des Chantiers, 78000 Versailles, France
T +33 (0) 1 84 17 38 84
cafetypo (à) brunobernard.com
---
The services that type design can provide
Custom typeface design (custom fonts)
Custom typefaces are, in a way, the culmination of a company's visual identity. They are designed with the same principles as the creation of a logo. Therefore, every word in communication materials, composed in the corporate typeface, will strongly convey the brand's values.
Custom typefaces also address various technical questions that can arise in a large-scale communication system: establishing a character set that can handle all languages of the target markets, harmonizing writing systems (Latin, Cyrillic, Arabic, etc.), optimizing screen display, securing files, and more.
Finally, creating a custom typeface can be a cost-effective solution compared to purchasing licenses for an existing typeface. In the context of deployment across numerous destinations (computers, websites, mobile apps, servers), licensing costs can easily surpass those of a custom typeface.
Font development
Font development involves transforming a set of drawn characters into a genuine typographic font that can be installed on any computer.
Graphic designers are increasingly creating their own fonts. Often used for visual identities or poster headings, these characters designed in graphic design software require significant manual composition effort to create each letterform. Furthermore, they are not always designed in compliance with typographic standards.
After an initial audit, advice, and dialogue with the author, the typeface is refined to enhance consistency among the characters. Subsequently, the typeface is developed to add features such as spacing, kerning, OpenType functions, screen optimization (hinting), and other parameters that will turn the typeface into a true font.
Other development services are also possible: adding more weights, creating italic versions, adding additional characters, ligatures, small capitals, generating various formats, etc.
Lettering
Lettering is the characterization of a word's silhouette, created either from an existing typeface or from scratch.
It can be a logo, a header, or any typographic visual that requires a special visual impact.
Manual drawing is often the best solution when designing a typeface character doesn't allow the word to have a unique or meaningful shape.